Home
A Buyer's Guide to Dog Stairs, Steps and Ramps 2020
A Buyer's Guide to Dog Stairs, Steps and Ramps 2020
If you buy through links in this article, we may earn a commission. This policy helps support the website's operation.
Learn more.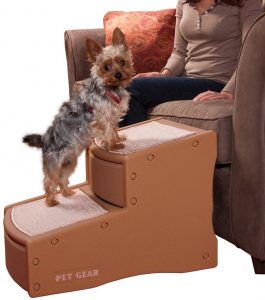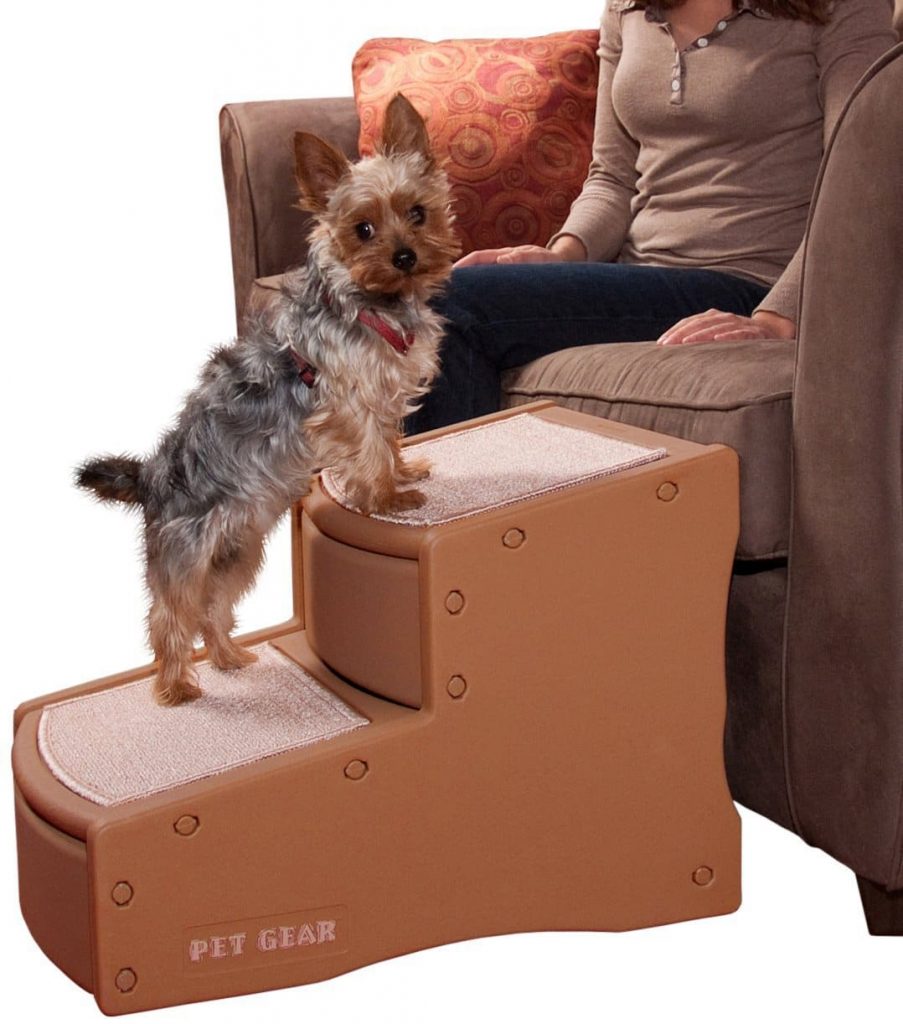 Whether you want to get your dog on the bed or into the car or even you need a dog boat ladder there's something available for you to grab and make sure it happens smoothly. There's a ton of different options available on the market, and they're all suitable for different purposes. If you pick one carefully, though, you're sure to be able to help your canine get wherever you want them to with the minimal amount of hassle.
Why Use Them?
Many of us like to have our pets with us at all times, and that can include in the bed and the car. As dogs age, or even if they're just small, this can be something of a problem due to their low to the ground, quadrupedal nature. Put simply, our world is built for the biped friends of dogs, not for the canines themselves.
This can make them a great investment for those of us with the right dog, especially those who aren't great at leaping anymore and tiny dogs which simply won't be able to do it on their own. Most dogs object to being picked up in a lot of instances, and if your dog is shy about it there's definitely a solution.
What to Use Each For
The whole selection process is really pretty simple, the first thing you'll need to determine is where you'll want to be using the help.
Stairs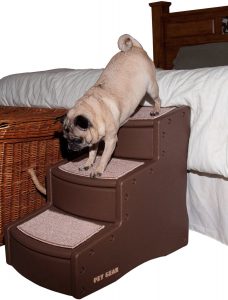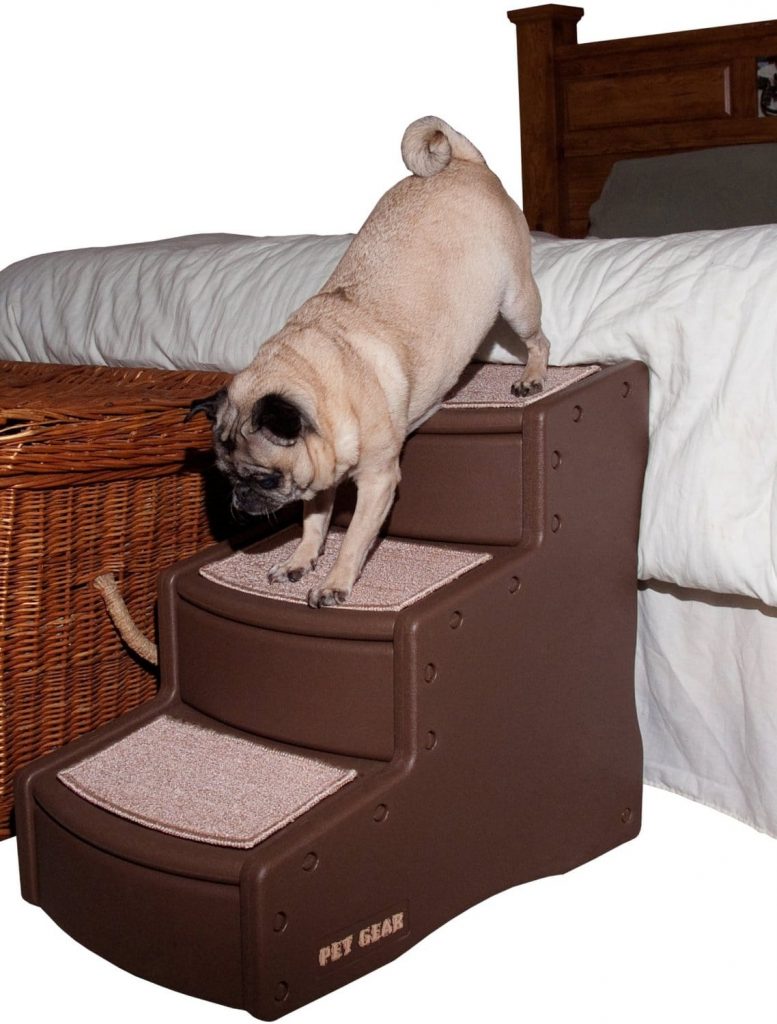 Stairs are generally the best option for getting small dogs into your bed, or even larger ones. As a general rule, they'll be more compact than ramps and a bit shorter than ladders. They'll also work for vehicles in a lot of instances, but there are a couple of caveats to the whole thing.
Sized appropriately you might just have a perfect solution for your dog getting into and out of your bed or car.
Older dogs with arthritis or other joint problems may not be stair friendly, and unfortunately, these kinds of problems primarily seem to happen to pets that have been around for a long time and can make them hard to use for replacing leaping ability.
Dog steps are usually convenient for both you and your canine, most will have handles to allow them to be easily moved or even fold up to allow you to take it on the go. Older dogs should be fine as well but look for lower steps.
Features:

Product Information

Our Rating:

Buy from:

PetSafe CozyUp Folding

Great for smaller pals
Include fabric covers
Durable construction

Brand Name - PetSafe
Sizes - L,XL
Material - Plastic
Price - $$

4.5

Frisco Foldable Nonslip Pet Steps

Folds down for easy storage
No assembly needed
Nonslip pads

Brand Name - Frisco
Sizes - 22.75 x 12 x 19.5 inches
Material - Plastic
Price - $$

4.2

Zinus 4 Step Easy Pet Stair

High-density foam
4-step stairs
Assembles easily

Brand Name - Zinus
Sizes - L,XL
Material - Polyester
Price - $$

4.8
Ramps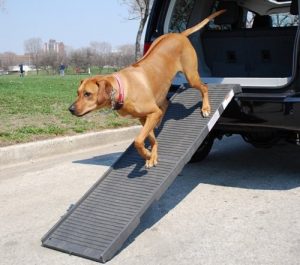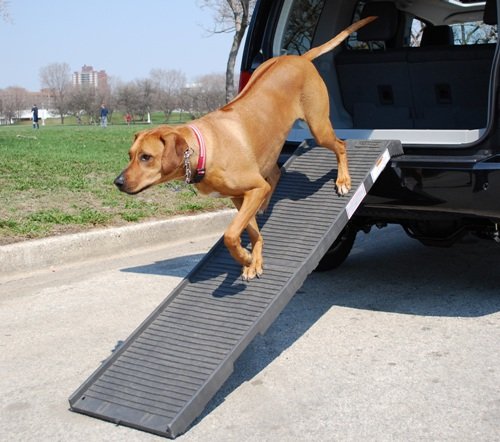 Ramps are best for larger dogs, or those suffering from arthritis. The problem with them is that many of them won't be of the right size to fit into your bedroom, so they're primarily used to get canines into vehicles.
If you like taking your dog with you wherever you go and you own a large vehicle, however, they can be absolutely invaluable.
Features:

Product Information

Our Rating:

Buy from:

PetSafe Happy Ride Telescoping Pet Ramp

Paw-vides an easy way for your pup to get in and out of the car
Telescoping design
High-traction walking surface

Brand Name - PetSafe
Sizes - L,XL
Material - Plastic, Aluminum
Price - $$$

4.5

Heininger PortablePET SUV Twistep Pet Step

Low-impact, low-stress vehicle access
Helps limit or prevent potential risks like arthritis
Sturdy steel construction

Brand Name - Heininger
Sizes - 19 x 22 x 10 inches
Material - Steel
Price - $$$$

4.6

PetSafe Happy Ride Folding Pet Ramp

This folding ramp helps dogs up to 150 pounds
Features a high-traction surface
Weighs only 10 pounds

Brand Name - PetSafe
Sizes - 62 x 16 x 4 inches
Material - Plastic
Price - $

4.3
Ladders
While not nearly as common, some people like to use dog ladders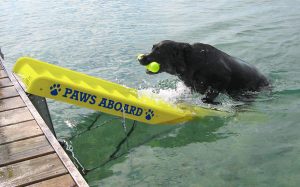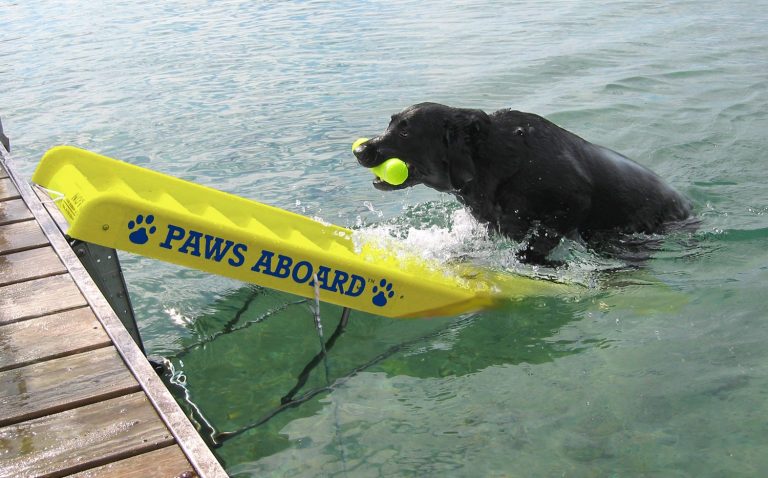 for specialized purposes. Mostly they're used for pets to get into boats so that they too can enjoy a lake or ocean adventure and many canines absolutely love the whole experience.
Most of them will float so your dog can get back into the boat if they decide to get into the water which can make for a good time for both you and them.
Features:

Product Information

Our Rating:

Buy from:

WaterDog Adventure Gear Dog Ladder

Dog-friendly design
Sturdy
Floats

Brand Name - WaterDog Adventure Gear
Sizes - 43 x 19 x 6 inches
Material - Metal, plastic
Price - $$$

5

Great Day Load-A-Pup HD

Attaches to the transom or side of any hunting boat
Constructed of aircraft aluminum
Weight capacity of 200 lbs

Brand Name - Great Day
Sizes - 24.5 x 17.5 x 3 inches
Material - Aluminium
Price - $$

4

Beavertail Stealth

Folds up and out of the way when not in use
Sturdy construction
Weight 150 pounds

Brand Name - Beavertail Store
Sizes - No info
Material - Plastic
Price - $$

5
What to Look For?
In general, once you've decided what you need to get done, there're just a few things you'll need to keep an eye on in order to make sure your dog is happy:
Sizing- You'll need something of the correct size for your dog in order to ensure that they can use it. Particularly large steps will give smaller dogs some trouble, and very small steps will take up more room for the amount of height they allow your animal to climb. It's a balance thing. The same goes for ramps.
Durability- Dogs aren't generally known for being particularly careful with things when they're climbing and playing, so you'll need to find something tough enough to take a little bit of roughhousing from your dog. For a terrier this is easy, but for a truly large dog, this might take some thinking.
Aesthetics- Like anything else we buy for our beloved pets, we like to get them things that are cute. If you've narrowed down everything else then picking something based on looks isn't really a bad thing in and of itself, but don't short yourself or your dog just for a little bit of visual appeal.
Cost- Just like everyone else, dog owners aren't always made of money. This means that cost will likely be the deciding factor, especially if you absolutely need to have the item. Just remember that with lower costs you'll often be forced to make other
Conclusion
Whatever you may want to do with your pet, there's no excuse to leave them at home. Old pets, young pets, small and large, they love to take trips with us and with the right dog steps, dog ramp, or dog ladder you'll be able to take them virtually anywhere.
Have we piqued your interest? Take a closer look at some of the best around for your home, your automobile, or your boat and you can be sure you're not being steered the wrong way.
PIN FOR LATER!
Images credits: Amazon.com & photo stocks