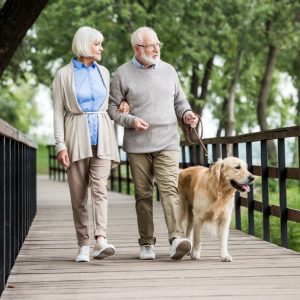 What makes your day? Retirement for seniors is a hard pill to swallow. Dogs offer the best friendship at this point for seniors. What criteria make the perfect dog for a senior? Different breeds exist that fit the profile of seniors.
Buying Considerations for Seniors
Read below our compilation of factors making a difference when selecting the best dogs for seniors. Our list includes the physical stature of the dog and upkeep activities you will have to take up as an owner:
Activeness
Are you ready to keep up with an energetic dog that likes being active? The pooch should meet your energy profile of a senior for ample time. It means you will not have to wake at dawn to go for a walk or at dusk. There is no need to keep a vibrant pooch that you cannot get a hold of.
Dog Size
Will you handle the overall size of the dog? You will have a hard time controlling a large dog breed. A small dog breed has less medical expenses when compared to a large dog breed. You can carry your dog around in case it cannot move. You can also go for a dog that fits on your lap when relaxing in the evening.
A Full Grown Dog or a Puppy
Both cases have their pros and cons, depending on the owner. An aged dog comes with medical expenses and special treatment that adds to the full cost. A pup comes energy-packed, proving to be a difficult task. Full-grown dogs are calm and collected and will not stress you with jumps and running.
Residential Area Guidelines
What are the dog guidelines in your residential area? Different residents have different guidelines on the nature of the dog you can keep. Other residents prevent the breeding of individual dogs for the overall safety of residents.
Overall Wellbeing
You have probably had enough of piling medical bills on your end to have others added for your dog. Getting a fully fit dog goes a long way in saving your trips to the vet. Do not take home a sickly one that will give you restless nights and cost you huge medical bills. The best dogs for seniors must be healthy, lively, and easy to maintain.
Best Dogs for Seniors in Their Homes
After expert consideration of these factors for seniors, go through the compilation of the best dogs for seniors. Our summary of the best dogs for seniors caters to all types of loners out there.