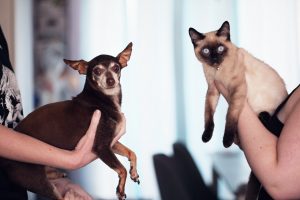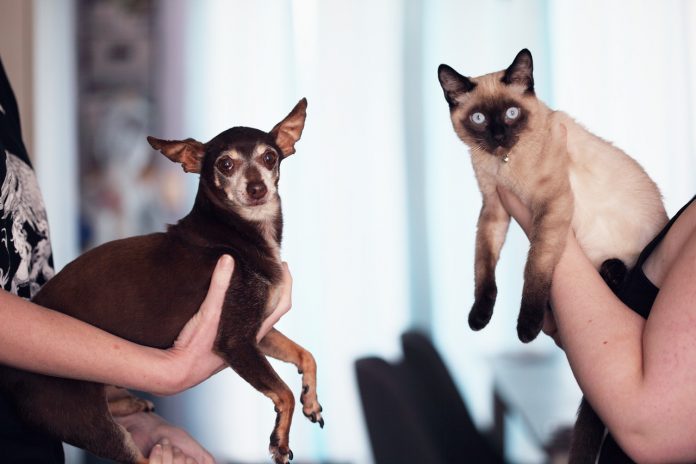 With the outset of novel coronavirus, many pet-owners find themselves quarantined within four walls, with their pet buddies. Staying in quarantine at home means remaining in a state of enforced isolation—no one steps outside their house, including their feline or canine. The lucky ones get a chance of stepping out at their courtyard or backyard with their adorable four-legged buddies. And, that is it.
During the recent global pandemic, every pet-owner prefers to be well-prepared, as it is very devastating to comprehend the uncertainty in the near future—around 70 to 80 million households, all-over the world houses either a feline or a canine. With the immediate negative effect of the COVID-19 virus infecting millions of people, you are the one who has to cater to all the precautionary measures for your family members and innocent pet buddies. Home quarantine your furry partners well by following the seven tips, mentioned in detail, below. Read them well, and try to implement them religiously.
Be Well-Stocked
We all know about the emergency that we are facing due to novel coronavirus. But avoid purchasing extra items out of panic. Keep a list of their essential medicines handy. Right from tick/flea powders, heart-worm, and deworming medication, you should cater to all, as you might require one of these anytime during your quarantine days. If you are reasonably well-stocked, it will cut down on your frequent visit to the 24X7 nearest departmental store too.
Be Aware of Any Emergencies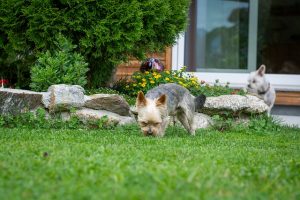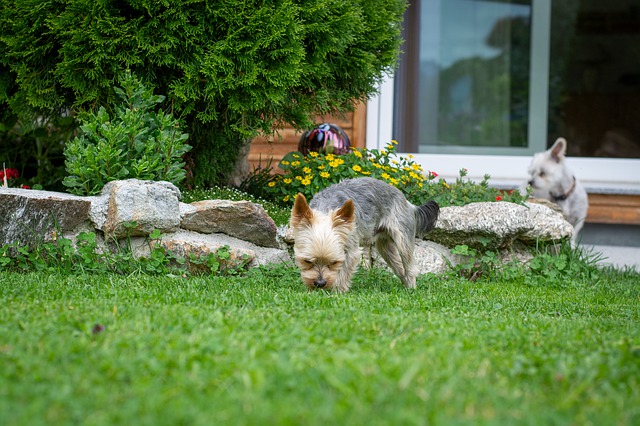 While at quarantine with your four-legged buddy, try assessing their body language. If you are a first-timer with a pet, consult your vet for the essential guidelines. Otherwise, an old pet-owner could quickly assess their condition, whether it is urgent or not, by their daily activity. If your pet is responding well, active, and having their meal properly along with timely relief, then there is no need to worry. If you sense any uneasiness, observe them for a day and consult your vet. During the present situation of heightened communal quarantine, many vet centers cater for emergency telephonic consultation services, with prior appointment. It acts useful as your pet's training advice, and for health-related issues.
Keep a Regular Check Over Your Pet's Health
Keep track of your pet's immune system, during your quarantine days. The same should be holistic. They should eat adequately, and sleep well. You can also order from the best pet supplies company online to stock the pet food, their medicines, and additional items for a few weeks. But never overstock them. Keep their medical record up-to-date.
Ensure about their regular vaccination and deworming. These all act as prevention against various ailments, and there stands less chance for them to visit the vet. Also, microchip your pets to get a regular update related to their vaccines. While in quarantine with your pet, occasionally go for their physical examination. Check their eyes, ears, nails, mouth, teeth, and coat. Groom them at every alternate day, with their grooming-kit. It will make both of you feel refreshed. Opt to make a video-call to your vet, if you sense something amiss. You can address some minor issues, with immediate effect, via these phone or video calls to the various certified pet-care centers.
Reward Them
Keep your four-legged partner super-charged and motivated all the time, even within the four walls. Care your pets by rewarding them with some home-cooked good eatables. They undoubtedly will wag their tail for more! Reward them with the same, whenever they listen to your command and perform well during their fundamental training. Moreover, never stick to only food items as their rewards.  During quarantine, you cannot go out for a walk in public places with your pet. But if you own a small courtyard, it will enable them to feel the fresh air for some time. They will bless your stars, as it is a kind of treat to the pets around us. It can thus vary from their favorite toys, pet-food, or playing games. With the entire act, their spirit will remain high!
Remain Indoors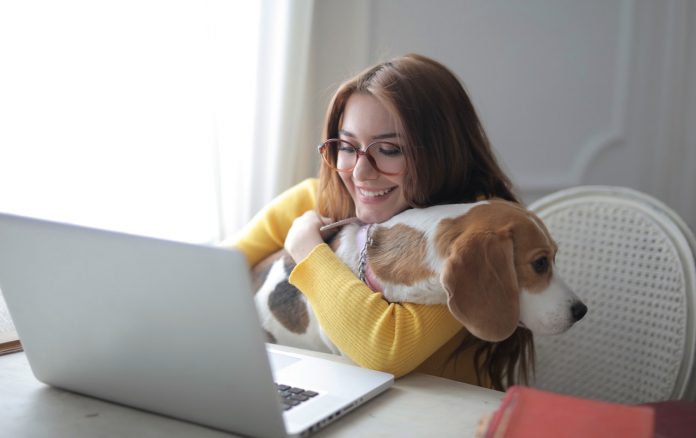 During the pandemic situation due to COVID-19, keep your pets quarantined with you, inside the four walls. If you own a pet dog, sometimes it becomes difficult, especially for their walk or any physical activity. There are many pet canines, who love to sit inside the house with their owners and keep on seeking attention. But, if you have a house with a garden and backyard, your pooch can take a short stroll, relieve themselves, and get back home. Be particular on disinfecting them, and yourself, once back home.
Wash your pooch's feet to clean any dirt. Remember that making your pet relieve themselves is a difficult task. And long hours of retaining themselves, lead to severe UTI. Place newspaper sheets, or else pee-pads at one corner of your house. Watch online videos concerning this issue. Try following the steps, as mentioned. You might have to repeat your command more than a couple of times, but they will start following the same in no time. Practice this only during the quarantine, but never make it a long-term habit.
Cater to Their Mental and Physical Stimulation
Staying at quarantine is the best time to teach your adorable pet various tricks. With the aid of numerous online pet training sessions, you can motivate them with the basic ones. Try keeping them engaged by playing different indoor games, like 'hide and seek' and 'fetch.' Hide their toys or food and ask them to find around the house. It will keep both of you thoroughly entertained. Or allow them to sit at their cozy corner and play with their chewy toys.
If you own a small garden or patch at your house's backyard, you can allow them to take a walk or play with them there. Try building primary obstacles with unused cartons or boxes. Then ask your pet buddies to jump over those. The entire game is very much stimulating, both physically and mentally for them.
If Required, Quarantine Yourself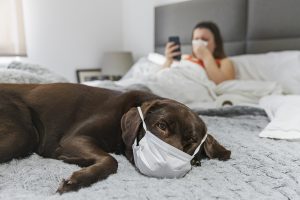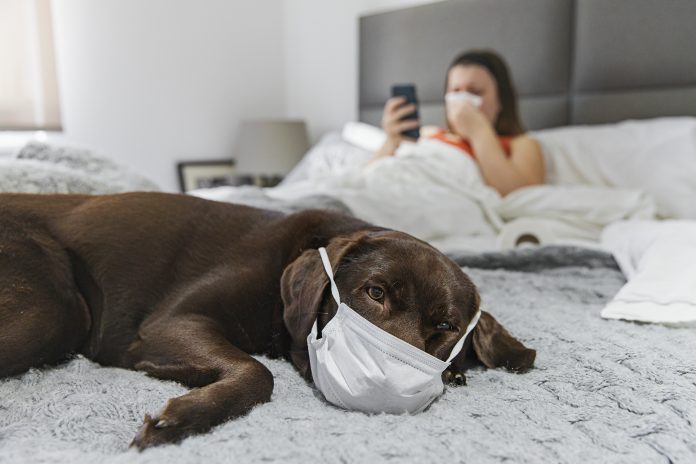 If you suspect anything related to COVID-19 with yourself, or your result comes positive, steer away from your pet and other house members, during this period. Research conducted by WHO and CDC, claims that the coronavirus or COVID-19 never spreads by our furry buddies. And, there is no valid evidence found to date, saying that they are the carriers of COVID-19 disease. If you are alone, quarantined with your furry buddy, limit your contact with these innocent souls.
Do not try petting them. If at all you do so, thoroughly wash your hands and sanitize them. Never try kissing or snuggling with them. And, always put on a face-mask around them. Shower them with extra cuddles and love, once the quarantine phase gets over. It is mainly to make up for a couple of weeks that you both stayed apart!
Stay Calm and Breathe Deep
It sometimes turns stressful, during quarantine with your four-legged partner. A drastic transformation in their routine, with no walks or activity, caters to too much mental stress and monotony in life. As a pet owner, you should provide various creative means and ways to remain well-occupied.
But then, be alert all the time, till the phase of COVID-19 gets over. The seven essential tips discussed above are practical measures, which you can take for the betterment of your furry buddies, during your quarantine days. Stay calm and keep observing these precautionary measures and healthy tips. Remember that every day will be a new beginning for both of you. So, breathe deeply and smile to start anew!