The Two-Door Great Crate by Precision Pet is an amazing dog crate that has all the required features such as durability and high-quality, and it is guaranteed to last for a long while. The metal crate has been designed to give security and safety to the pet and to make your job easier with the features and convenient design.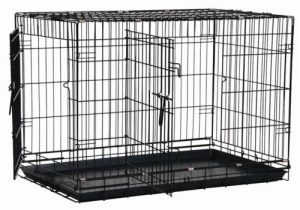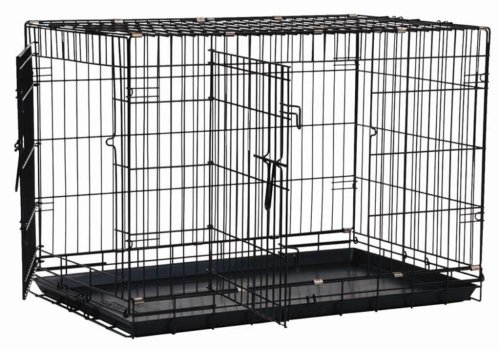 It ensures ease of use, and you can also use it to train your pet. The crate by Precision Pet is designed to give portability and folding. Quite simply, it has everything you need in a good crate.
Description and Features
The dog crate by Precision Pet features the two-door design that offers entry through the front and side. Each door features two slide bolts on the door latches, so the crate can be safe and secure for your pet. You can rest assured that the pet will not get out and wander away while you are not looking.
Not only can you rely on the sturdy construction of the crate to provide safety and durability, but the foldable design and construction also ensure portability. The crate is ideal for long term use, and it can survive years of scratching and rough use. The removable plastic panel and the divider panel are also provided with the crate for optional use.
The dog crate by Precision Pet is perfect for puppies as well as for adult dogs. It is available in seven different sizes, so you can get the perfect fit. It can be used to train your pet, whether you want to house train or potty train your dog. You can also use it as a place for the dog to sleep or relax. The two-door design provides you better access so that you can easily clean it.
You can fold the crate flat if you have to store it somewhere or carry it with you on your trips or vacations. Its availability in seven different sizes means you do not have to settle for a smaller or larger size. The crate features metal wires that give your pet proper visibility and ventilation. While some crates are made of wood and feature wooden bars, they can be easily chewed by the dog, which is not healthy for your pet at all. Metal wiring, on the other hand, is safe and durable and can last for a long time. To ensure the dog does not get scratches or cuts, the corners of the crate are rounded.
It is also equipped with a divider panel, which can be easily removed whenever you want. It is ideal for restricting the living space or expanding it. Normally, pet owners do this to teach the pet some boundary rules and effectively crate train them. Adjusting the panel is very easy, and you can choose not to use it at all. You can also adjust the panel as your puppy grows into an adult dog.
The crate also features a plastic pan that is removable and easily cleanable so that you can ensure the health and hygiene of your pet dog. The pan is not only easy to clean, but it can also be taken out without opening the crate and taking your pet out. It is a convenient feature that you can use to clean the crate.